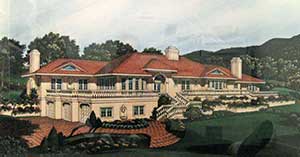 Since 1984 Scott Design Associates has provided design expertise throughout Santa Clara, San Mateo, Santa Cruz and Monterey counties. Our goal is to design projects based on client needs and budgets. Sounds simple, but reality is far more complex.
We have completed over 1,000 projects, mostly complex remodels or new custom homes. The majority of our work is highly customized to our clients' needs and desires. The design solution evolves through an interactive process using: site meetings, sketches, drawings, e-mails and phone sessions for our clients' convenience and allowing the project to move forward according to schedule. Plans are prepared using Autocad and various other digital tools to optimize efficiency. When the drawings are completed, we'll handle agency processing and permit approval. During construction site and office support is provided in a timely fashion to avoid construction delays.
Scott M. Cunningham, our founder and principal designer, has design, construction and building department experience since 1977. Scott has traveled extensively in Europe and the US to study architecture. We continue to implement new technology allowing our designers, structural engineer, soils engineer, interior designer and other consultants to work from various locations to keep your project on schedule.
Please feel free to call for a consultation. If our expertise fits your needs, we'll schedule a complimentary initial meeting to develop a design proposal and determine project feasibility.